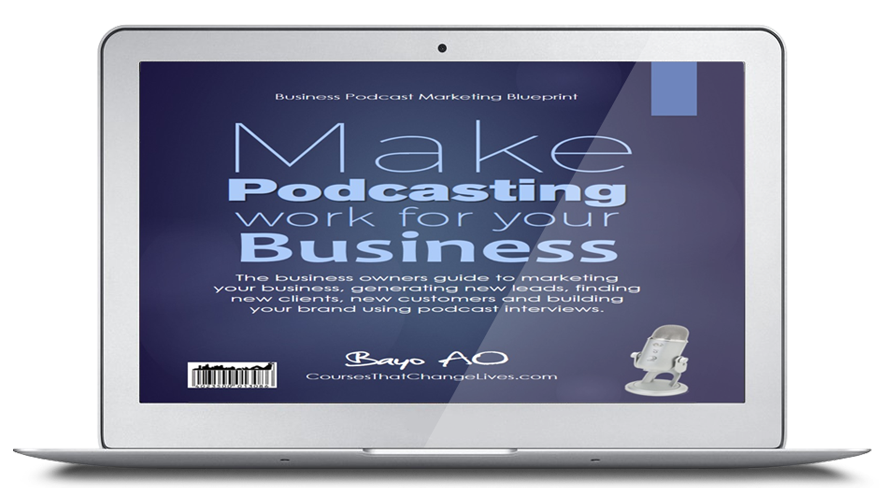 Boost Your Credibility. Gain Recognition. Grow Your Business With Business Podcast Marketing Interviews
The business owners guide to podcast marketing for business, generating leads, finding new customers, increase your sales conversions and building your brand.

Many business owners and entrepreneurs are still struggling to make podcasting work for their businesses and are either continuing to waste valuable time and resources or giving up altogether. What this means is that there's much less competition for you when you use business podcast marketing in your business.
Make Business Podcasting Work for Your Business
However, businesses that are mastering business podcast marketing and finding networking and increasing their circle of influence to be easy. When you are this type of business you will not only reap enormous rewards, but you will also build one of your most valuable assets, and that is a following of loyal customers and brand ambassadors who are going to help you secure your success as your business steadily continues to grow into the future.
Whether you are completely new to podcast marketing or you are already aware of podcasting but don't know how to make it work for your business, this course aims to demystify podcast marketing for business and give you a business podcasting blueprint by revealing the principles, strategies, tactics and tips to make podcasting work for your business.
In This Exclusive Business Podcast Marketing Course...
In the course you will learn all about the benefits of podcasting marketing for business, the psychology behind it together with how to use the almighty power of business podcasting to:
Identify and find your ideal customers
Boost your exposure and build credibility with well crafted podcast interviews
Generate and capture new leads for your business
Attract highly qualified prospects to your website
Get more of your prospects and existing customers and clients to buy from you
Build your unique business brand
Develop goodwill as you share information that hepls your target audience
...and much more!
Business podcast marketing works very well and is not a "crowded" marketing method. Check out the details and enroll on this exclusive business marketing and business owner's course now that'll show you how to gain credibility and recognition using business podcast marketing..