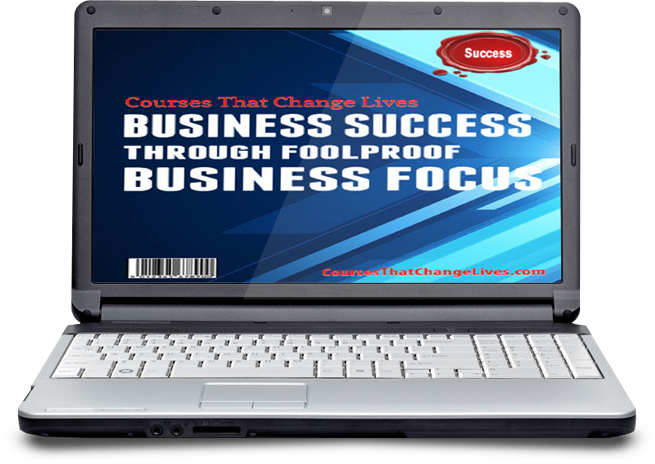 BUSINESS SUCCESS
Beyond Your Wildest Imagination:
Develop Foolproof Focus in Business
Are you an Entrepreneur or someone who wants to be an entrepreneur?

Probably more important than simply being an entrepreneur, are you a successful entrepreneur or do you wish that you were?
"Successful Entrepreneurs Are a Particularly Special Breed
You Have It Within You to Join Them"
Entrepreneurs are a particularly special breed of human being. A key trait that makes successful entrepreneurs stand out is that they have an uncommon ability to dream and dream really big. It's a fact that not all people have what it takes to be an entrepreneur and a successful one. Being a successful entrepreneur requires having a vision, energy, creativity, determination and a healthy dose of patience.
Being an entrepreneur and business owner myself, I know first-hand that it can be challenging to control all that creative energy enough to have the right kind of focus to do what really delivers results in business.
2 Types of Energy in Business
Did you know that there are two kinds of energy in business? One is unfocused energy and the other is focused energy. One of these types of energy will get you twisted up in knots while the other propels you forward into success.
This course teaches you how you can incorporate the right kind of focus into all areas of your business as an entrepreneur so that you succeed beyond your wildest dreams.
In this course Business Success Beyond Your Wildest Imagination: How to Develop Foolproof Focus in Business you're going to discover why focus is key in every area of what you do as an entrepreneur and business owner.
Modules in this course include:
The definition of ineffective business focus
The definition of effective business focus
The personal and business difficulties not having focus creates
Advantages and benefits of having focus
The secret for how to get and stay focused as an entrepreneur and business person
How to successfully decide what you need to do next to keep being successful
How to create your own personalized focus strategy
How to set yourself up for business and entrepreneurial success
Keeping your eye on marketing to increase your visibility
Next steps
…and more.
Have you ever wanted to get focused so you can achieve your goals in life and in business and an entrepreneur? This course has been designed to give you the exact information you need to do that.
To get started enroll now.