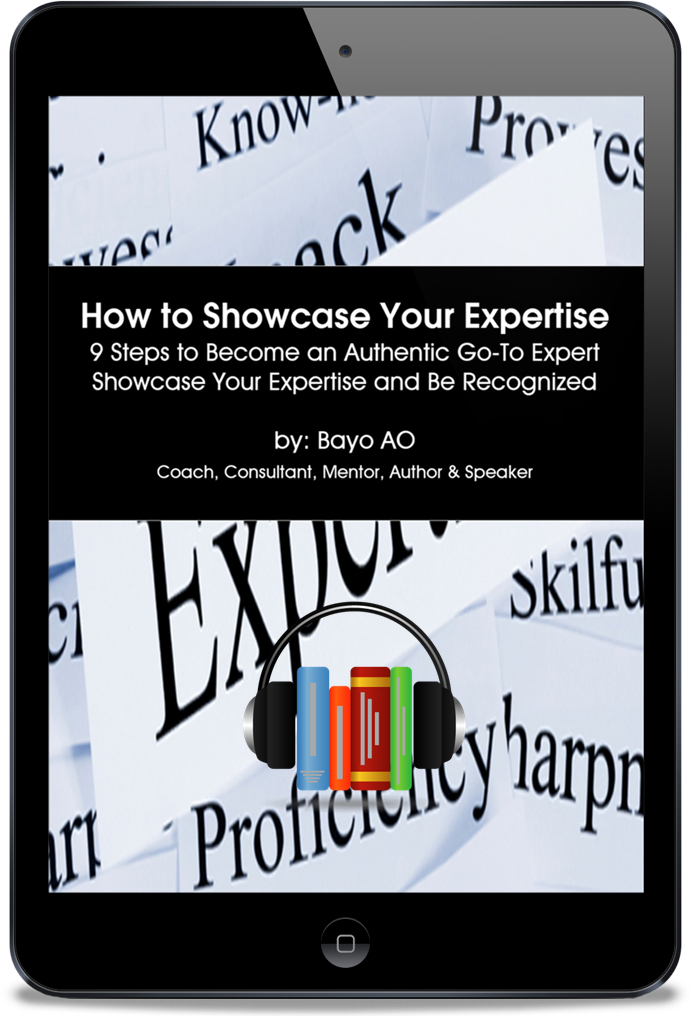 Showcase Your Expertise?
It's possible for you (forget about anyone else for now) to showcase your expertise and position yourself as a go-to expert in a field of your choice?
Yes, it is and I'm going to show you how to prove to yourself that it's possible. However, first, let me tell you why I've gone to this extreme.
What Does it Mean to "Showcase Your Expertise"?
Showcasing your expertise is about understanding human behavior. Studying human behavior, why some people seem to find it easier to "put themselves out there," persuade, influence others and establish their authority have all been among my deepest passions.
"These topics have all consumed an embarrassingly large amount of my time and energy for more than two decades. That's when I launched my very first "real" business. I've got family members, friends and peers who swear that my pursuit borders on something of an obsession.
My interest in human behavior and how to showcase your expertise and position yourself as an expert bordering on an obsession? They're so wrong. Wrong because it crossed that line ages ago.
Let me share something with you about you that I know to be true.
YES YOU CAN Showcase Your Expertise and Be Authentic Go-To Expert and Do it Ethically and with Total Authenticity (Especially if you're an introvert like me!)

You know more than many other people out there. If you didn't, the thought of helping others professionally (or even personally) by showcasing your expertise and increasing your visibility so people know about you wouldn't even cross your mind in the first place.

"If you're anything like the average professional I coach and teach I can guarantee that you currently know more than hundreds and possibly thousands of other people in more than one area of your business, career, profession, relationships, spirituality or life in general.
I'm not aware of any other subjects that are more fascinating, more empowering, more profitable for businesses and professionals, and rather unfortunately, more confusing for the people that need to understand them the most. The confusion surrounding how to showcase your expertise and do it in ways that are ethical and allow you to be authentic is more than unfortunate; it's also essentially unnecessary.
Given the pace at which things develop in today's world, it's never been easier to showcase your expertise and position yourself as a go to expert in your niche or industry.
Never.
Consider this:

To showcase your expertise and position yourself as an authentic expert:

* You don't need to have good looks.
* You don't need to have a silver tongue.
* You don't need infallible logic.
* You don't need a huge amount of confidence.
* You don't need to be charismatic (although it doesn't hurt!).
* You don't need a magnetic personality.
It's quite a simple matter when you cut through all the smoke. In my experience and from my experience of working with entrepreneurs, coaches, consultants, speakers, authors, solo-professionals and business owners it's cutting through the smoke is the really hard part.
If You Haven't Showcased Your Expertise Yet
And let me tell you this…
If you've yet to showcase your expertise to the level you want, it likely has nothing to do with you.
Given the shell game of strategies and misinformation available, it is a wonder anyone even dares to consider referring to themselves as an "expert" these days, much less ask others to consider them to be an expert.
Next Step

When you enroll now we'll contact you to collect for some information to get the ball rolling for your coaching program. This is to make sure that we're a good fit. If you have any questions in the meantime feel free to ask.
Enroll now to register on this 4-week coaching program "How to Showcase Your Expertise" now because spaces are limited*.
(*If spaces are full on the current program you'll be offered a guaranteed place on the next one.)